Recorded in 2016 by Zhang Yixing Studio (cannot get over the ring that has to it) written and produced by Lay and co-written by CC and co-produced by Devine Channel and released on May 27, 2016, Monodrama is now one years old! The song covers both the CPop and R&B genre, Lay delivered a moving performance not only in his acting skills but in his musical abilities. The song showcases Lay's acoustic guitar and piano skills telling yet another version of the classic story of unrequited love. "Monodrama" was SM Station's first Chinese language song and it did VERY well.
Lay has every right to celebrate this piece of musical artistry as it broke so many records.
Upon its initial release, "Monodrama" ranked No. 1 on:
YinTueTai (aka China V Chart)
iTunes Singapore
Hong Kong
Taiwan
Thailand
Malaysia
Vietnam
Japan
"Monodrama" ranked No. 2 in:
"Monodrama" ranked No. 3 in:
"Monodrama" also ranked No.1 on Billboard's China V Chart for five weeks.
The "Monodrama" music video broke the chart record in just two days by gaining 1,968,909 views in 48 hours.
The song ranked No.4 on YinYueTai's TOP 100 Songs of 2016 (China) V Chart, No.2 on Alibaba Year-End Top 40 Music Chart for 2016 and No.7 on Xiami's Top 100 Most Popular Singles of 2016 in China.
Well done Lay!
Well done Zhang Yixing!
Rise!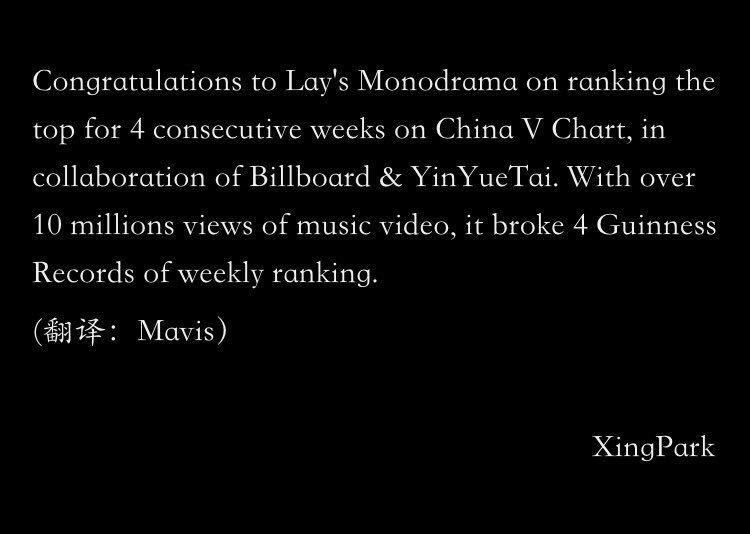 Credit: @EksoDoo30